2024
Annual La Befana Party

Please join us for our annual LA BEFANA PARTY!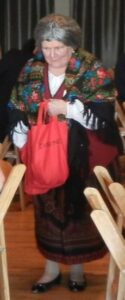 • Saturday, January 6, 2024, 1:00pm – 4:00pm PST
• Casa Italiana – Italian Cultural Center
13028 First Ave. S., Burien, WA 98168   206-735-7152
• You should receive an Evite invitation via email with all the particulars. If you have not, please let us know at info@seattletrentinoclub.org
• RSVP via Evite by December 31, 2023.
• $15.00 per person (ages 12 and under are free) for a lunch of lasagna, garlic bread, and salad, catered by Casa Italiana.
Purchase your tickets here:


(Please note, the PayPal site is used to process credit cards, debit cards, and PayPal accounts to ensure the security of your information. You do not need a PayPal account to use your card to pay for your tickets.)
If you want to pay on the day of the event bring checks or cash (no credit cards).
Feel free to bring an appetizer or favorite dessert to share. The espresso bar will be open to purchase special beverages. We can bring our own bottles of wine to share. Casa will also have wine available for purchase.
PLEASE BRING A GIFT FOR A GIFT EXCHANGE, one gift per participant (a child's gift for each child, an adult gift for each adult) worth around $10.
The gift exchange is a lot of fun. A narrator reads the story of La Befana while gifts are passed around the circle every time La Befana's name is said in the story.
La Befana will make an appearance after we eat and read the story.  We are also hoping for an appearance by Babbo Natale.
While you are on the STC website buying your ticket, consider renewing your membership for 2024!
Our dues are annual, due at the beginning of the year, $25 per family, payable via credit card, debit card or PayPal on our STC website for your convenience.
All paid members receive a beautiful STC sticker to thank you for your support!
2024 ITTONA Convention
ITTONA – International Tyrolean Trentino Organization of North America
September 5, 2024 through September 8, 2024
Pinzolo, TN Italy
It's official! Registration is open for the 2024 Trentini convention– and it sounds fantastic!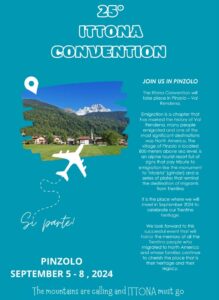 The ITTONA convention happens every two years, usually in the US or Canada, and is a gathering of Trentini from clubs around North America. The 2024 convention is a rare opportunity for us to gather in Trentino.
If you have ever thought of going to Trentino, or re-visiting it, this may be your time to go. Past conventions have been a lot of fun.
Click the following links to view –
The Information & Application PDF (https://seattletrentinoclub.org/wp-content/uploads/2023/11/ITTONA-2024-Booklet.pdf)
and The Optional Tours PDF (https://seattletrentinoclub.org/wp-content/uploads/2023/11/ITTONA-2024-Optional-Tours.pdf).
If you have any questions, contact the Convention Planning Committee through Terry Tremea at twtremea@msn.com.