Food is an important part of any culture. Preparing, eating, and sharing traditional dishes help us connect with others across time and place, as well as in our own communities. Familiar cultural food can kindle fond memories and provide a powerful–and delicious–way to create new memories and traditions. Some of our members have graciously shared their traditional family recipes here. (Click on the recipes to enlarge them.)
POLENTA (AND TOPPINGS)
-From Grant Rauzi-

Dad's Recipe – Polenta con Salcicce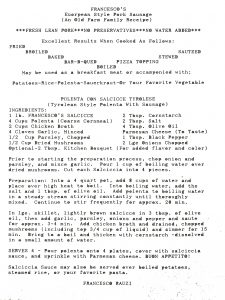 -From Joan Barker-
Tonco (Val di Non) – Gravy for Polenta
CANEDERLI
-From Grant Rauzi-
Zia Virginia's Recipe
My aunt's name was Virginia Rauzi  She was my grandfather's sister in Cloz.  All of her life she was devoted to caring and cooking for the priest and his rectory and guests.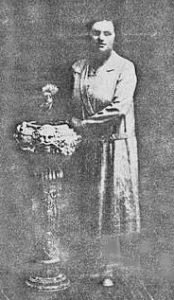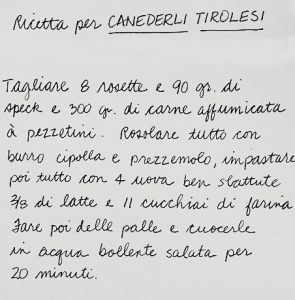 The Recipe on Wood
The recipe on wood is from the Torresani family.  They had the meat market in Cloz.  You could also buy cheese, items carved from wood, wine and grappa.
ZELTEN
-From Mauro Rizzi-
Zelten is a typical Christmas cake from Trentino, it is prepared during the period of the advent and is then eaten at Christmas.  The first recipe dates back to the 1700 and its name derives from the german "selten" which translates to "rarely" as its prepared only once a year during Christmas.
This recipe comes from my Zia Cesarina (Valentini) of Iavré in Val Rendena. (She is the little girl in white in the photo.)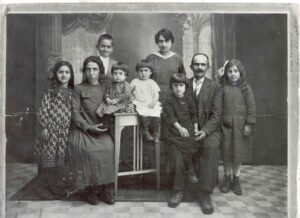 It's a cake made during the festivities and therefore is enriched with all the "good and expensive stuff" that people in the mountain valleys could rarely afford such as dried fruits like figs, sultanas and candied fruits. Zia Cesarina would prepare this cake and have it ready for all who came to visit her throughout the Christmas festivities; she would serve it with a sweet wine like Moscato.
I was told that the preparation of the dried fruits was a family event. During the late fall evenings people did not have a television to watch (they were lucky if they even had a radio to listen to) so they gathered around in the warmest room (usually the kitchen) and talked while slicing by hand all the dried fruits (slicing, not chopping as this took more time and therefore increased the time they would spend together). All of the walnuts, figs and candied fruits would have been meticulously sliced one-by-one by hand with a knife by all participants.
I am proud to share this recipe with you as I am the only one in the family that had participated in its preparation with Zia Cesarina. Sharing it with you will keep alive this tradition that I've learned in Val Rendena.
Enjoy!
Mauro Rizzi
PAN DOLCE
-From Joan Barker-