We extend our heartfelt condolences to the Boldrin family for the loss of Larry Boldrin. It has been a pleasure having Larry in our Seattle Trentino Club. In this photo from our 2019 Polenta Picnic, Larry has just won the grand prize, a gift basket of Italian goodies. He is smiling, as he is in all the photos we have of him at our events.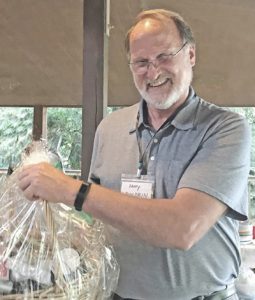 From his obituary:
"Lawrence (Larry) Lee Boldrin, age 73, passed away peacefully in his home at 3 pm, on December 18, 2020. He was born in Bremerton, Washington to William and Marie (Renner) Boldrin. He was one of five children.
Larry was raised in Port Orchard, where he and his twin brother, Jerry, were well-known for their compassion to help others, their loyalty to family and friends and their strong work ethic. Almost daily, each twin was given a list of chores to complete before they could socialize with their many friends. Regardless, Larry still found time to fuel his mischievous nature with his many escapades with buddies. The twins graduated from South Kitsap High School in 1965.
After high school graduation, Larry attended Seattle University, where he majored in Electrical Engineering. He was also active in the ROTC program. He joined the United States Army and earned the rank of Captain before his honorable discharge.
Larry and his first wife, Barb, resided in Bellevue the first 22 years of his adult life. He was employed as an Electrical Contractor and Electrical Engineering Estimator at a number of well-known firms in the Seattle area. Before retiring in June, his most recent employment was with Elcon Corporation in Mukilteo, Washington.
During his life, Larry was an avid golfer and he spent many of his weekends and vacations with family and friends playing the sport. He also loved the Hood Canal, where he purchased a beach cabin on the water with his twin brother, Jerry, and wife and their sister, Pat and husband, in the 1980's. Larry spent countless hours there collecting oysters, clams and mussels for himself and others. During shrimping and crabbing seasons, he was often seen, rain or shine, out in their tiny skiff, dropping pots into the salt water. Larry was known for sharing his bounty.
The Boldrin's still have a strong family tie with relatives in Trento, Italy. Larry participated in the Trentino Club of Seattle, where the Boldrin Italian heritage and intriguing stories from past generations are cherished and celebrated.
Larry was married to his long-time significant other, Nita Powell. Along with his wife, he acquired a stepdaughter, Whitney Martin, whom he loved dearly. The three of them formed a tight-knit, loving family. At the time of his death, he and Nita had just moved to Belfair, Washington. Both his wife and daughter were holding his hands, as he slipped quietly away.
Larry was preceded in death by his son, Kevin, his parents, and several aunts and uncles on both the Renner and Boldrin sides of the family. He is survived by: his wife, Nita Boldrin; his stepdaughter, Whitney Martin; his older brother, Clete Boldrin, married to Delores; his twin brother, Jerome Boldrin, married to Pam; his younger sister, Patricia Boldrin Penaranda, (Pat Penaranda) married to Joe; his youngest brother, Mike Boldrin, married to Elena; three nephews, two nieces and 10 great nieces and nephews."
Due to Covid-19 restrictions, there are no plans for a public Celebration of Life. In lieu of flowers, memorials may be made in Lawrence Boldrin's name to:
Providence Sound Hospice
ProvidenceSt Peter Foundation
413 Lilly Rd
Olympia, WA 98506