"A CLOZ FAMILY IN AMERICA"
Written by Grant Rauzi
Seattle, Washington, September 2017
Famiglia Rauzi traces our family history via Castel Mozzo in Cloz, Val di Non to the 1500s. We have embarked on the project to research even earlier and welcome any helpful information from our Trentino contacts!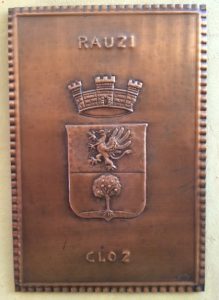 AMADIO RAUZI (Bisnonno) Born in Cloz 1863-1939. Adventured to America at least twice to work in the gold fields. He also traveled to Argentina. Arrived in New York 12 Sep 1887 on the ship La Bourgogne departed from Le Havre, France. Age 28. Destination: California. SS La Champagne out of Le Havre 28th October 1899. Arrived New York Nov. 1899. Destination was listed as Belt (just north of Helena, MT) to mine for gold.
First family of three children died of cholera, the two oldest died the same day. The story goes that they went out in the fields to work and died, first one and then the other, before the day was over.
He returned to Cloz from America and had three more children before his wife died. Married her sister who raised his children but had none of their own.
FRANCESCO RAUZI (Nonno) Born in Cloz 12 June 1900, died 21 August 1952, Stockton, San Joaquin County, CA. Austrian Alpini army 1918. My grandfather joined in place of his father Amadio during the transcription of the villages of the Val di Non. Unfortunately, along with the rest of the Trentini, he was sent to the Russian Front, the "Long Walk". Many lost their feet to frozen conditions. Good news: he survived and returned. Bad news: his lower extremities were never without pain again.
Arrived in America April 1921 after the war. The boundaries changed so his passport was Italian. His sponsor was his cousin-in-law John Franch who vouched for work and residence. (John Franch's dad and Ervino Franch's dad, Camillo, were brothers. Camillo's shop in Cloz is well-known: lavorazione artigianale e artistica dei metalli.
First stop was the mines in Hazelton, Pennsylvania, then on to California because his cousins, the Flors, from Cloz lived in Stockton. He worked as lumberjack in Truckee, Lake Tahoe.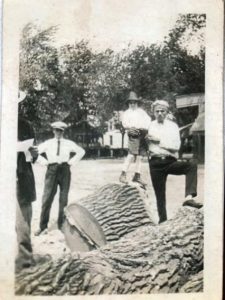 Stockton, California offered many opportunities. My grandfather was offered a room in the house of the Valentini family, who originated from Dambel (near Cloz in Val di Non). In Stockton, he worked at the Monarch Foundry, then Union Ice Company, then started his own business as distributor of Italian meats and products. The products arrived in Stockton by riverboat from San Francisco, and his customers were meat markets, stores and restaurants in the Central Valley. He also farmed on West Lane and bought homes on Wyandotte Street.
| | |
| --- | --- |
| | |
Returned to Cloz by steamship with his wife and children and they lived in Castel Mozzo for 1937-38. He never completed his citizenship papers, and therefore, as an alien in Stockton, California during WWII, he had to be inside his house each night by 9:00 pm. He loved to sing, and was a host of many gatherings for his Trentini community in Stockton. Tragically, he died at the young age of 52 of Hodgkin's Disease (cancer of the lymph glands). One year later, research was found to arrest it.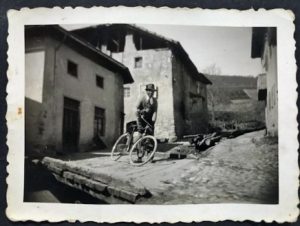 FRANK JOE RAUZI (Papa) Born in Stockton 1927. In Cloz in 1937-1938, he was confirmed at St. Stefano and lived in the family home "Castel Mozzo". He didn't understand why all the other boys in school had short hair, until the teacher grabbed him by his curly hair and shook him to scold him. Next day: haircut!
Frank joined the Marines during WWII and was selected for the Marine Rifle Team. He also served in the National Guard. He took over his dad's business upon his death, and later enjoyed a long and successful career in sales for Gallo Salame of San Francisco.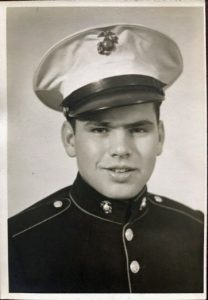 Frank returned to Cloz in 1977 for six weeks, taking his entire family: his wife Marilyn and three sons (Grant, Frank & Kurt), his mother Edith and stepfather. It was a grand reunion. Frank and Marilyn returned five more times over the next 30 years to visit cousins and friends.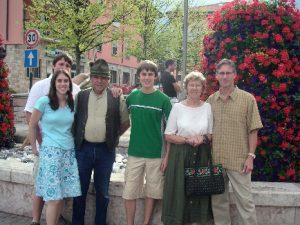 • Member: Circolo Trentino di San Francisco
For many years, Frank cooked the polenta dinners for the Trentino gatherings held in the San Joaquin Valley. He has set the example for all the cooks in our family using his time, treasure and talents!
• Dear Possessions from Cloz: his father's WWI Alpini bayonet; a hammered copper deep polenta pot with rounded cauldron base for use on the wood stove which he watched being made by Ervino Franch's father, Camillo in 1937. Ervino handmade the copper Rauzi family plaques cherished by each member of our family.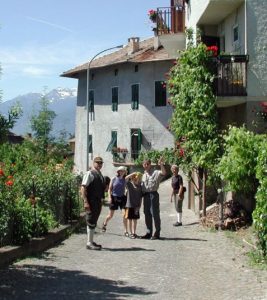 GRANT RAUZI (figlio maggiore) Born in Stockton 1954. Moved his family to Seattle in 1993 to follow work in the high-tech industry. Grant has visited Cloz four times: first in 1977 as mentioned, then with his new wife Kathy 1981, in 2001 with Kathy and their two children Madelyn and Steven, parents and his brother Kurt along with his family too; and again in 2006 with Grant's teenage family and the parents.
• Member: Circolo Trentino di Seattle
• Dear Possessions from Cloz: Souvenirs from hiking to San Romedio. Many assorted handmade copper items from Ervino Franch's renowned shop in Cloz, including a hand hammered WWI brass artillery shell from Ervino. Handmade heirloom copper pot from Cloz engraved especially for the Rauzi family.
OUR FAMILY TRADITIONS FROM TRENTINO
• Trentino club activities
• Wine family recipe for family, friends and club
• Favorite family recipes for polenta, cannederli with salame, torta, apple desserts, and Papa's crauti with apple (P.S. Did you know half of all Italian apple production comes from Val di Non?)
• Annual family salame production maintaining the Rauzi recipe from Cloz – this year we look forward to the assembly of four generations!
(P.S. We named our boat in Seattle after our desire to maintain our "close" family ties 🙂 )